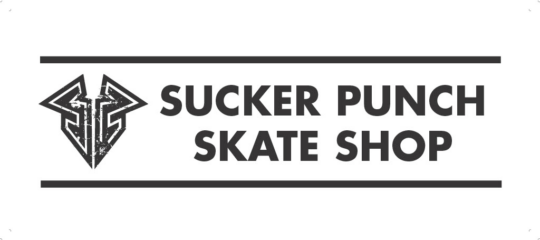 Sucker Punch Skate Shop
Sucker Punch Skate Shop is Europe's premier Roller Derby shop. Proud to be the longest running derby
owned Roller Derby shop, Maarten has been servicing roller skaters from all over Europe both online and
in our beautiful and spacious shop in Gent, Belgium for almost 10 years and Animal (Jammer with the
Manneken Beasts in Brussels, aggressive quad street/park skater) is relatively new in the shop but has 30
years skating experience under his belt.
With our ton of experience, profound product knowledge and unrivaled technical knowhow, no other skate
shop can live up to our service, quality products, honest advice, inventory and delivery time on the
European continent.
We share your passion!
We have made it a priority, since day 1, to support European roller derby, skaters and teams. With that in
mind, we bring you a sponsorship that will benefit your skaters immediately. We also offer great bulk rates
to outfit your team in gear and accessories. We are looking for teams who we can build a relationship
with, so we not only offer discounts, but also provide extra services that will benefit your league and its
members.
Roller derby is een unieke contactsport op quad skates. Helemaal georganiseerd door skaters en voor skaters. Geen bazen, uitsluitend skaters met hart voor de sport en hart voor de community. Om deze sport in Arnhem mogelijk te maken hebben we sponsors nodig. Bedrijven die ons willen steunen met de promotie van onze club, gebruik van een locatie, aanschaf van teamshirts, het organiseren van events en ga zo maar door.
Roller derby is de snelst groeiende sport van dit moment en genereert veel aandacht: dit betekent dat wij regelmatig verschijnen in kranten, tijdschriften en de lokale tv. Onze flyers en posters vind je in veel winkels, bars en andere openbare plekken in de regio Arnhem. Verder reizen we veel door de Benelux voor bootcamps en wedstrijden die veel publiek trekken.
Neem contact op m et onze sponsorcommissie op via info@arnhemfallenangels.nl. We wisselen graag met je van gedachten over de mogelijkheden en de voorwaarden.